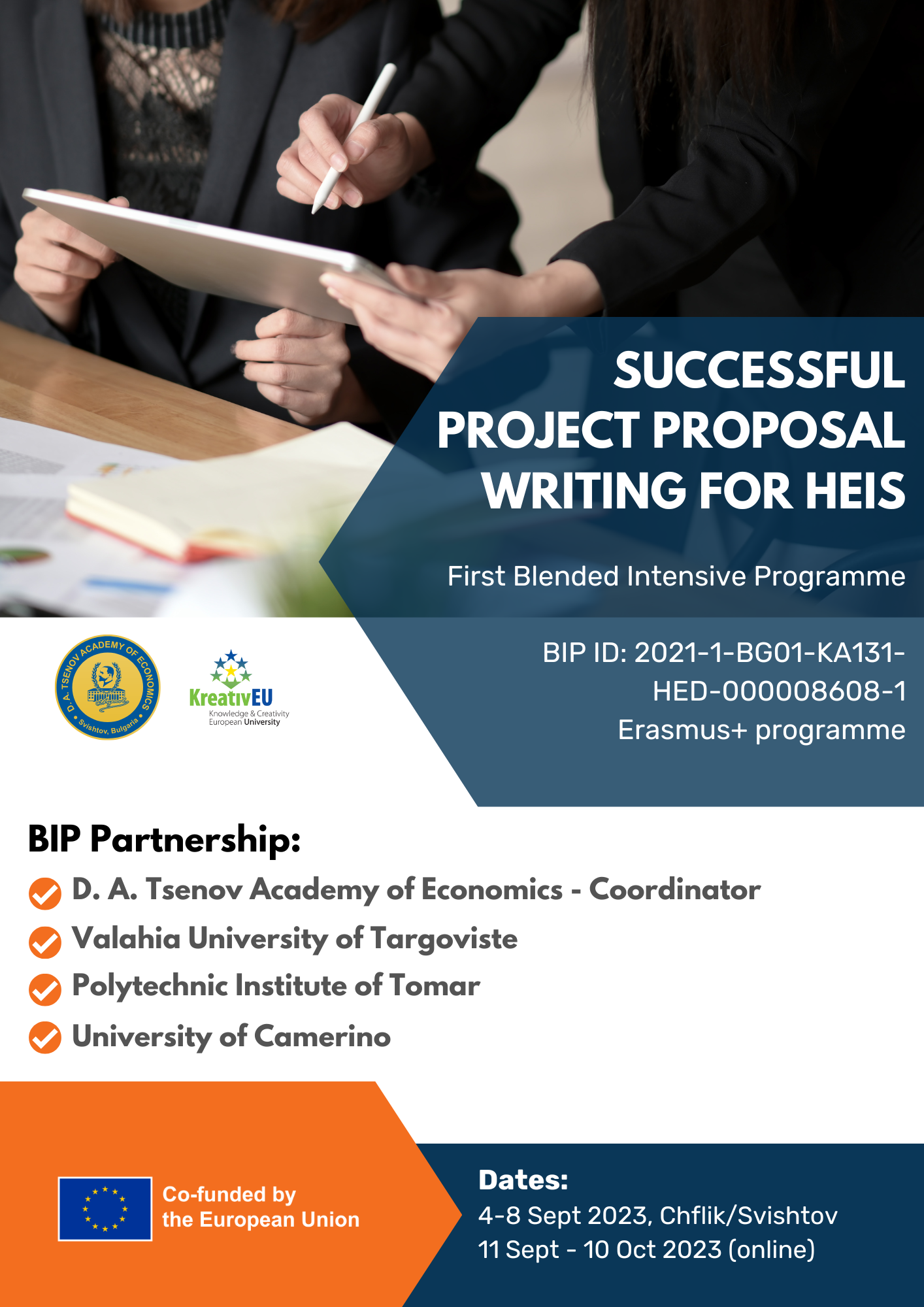 Topic:
Successful Project Proposal Writing for HEIs
BIP ID:
2021-1-BG01-KA131-HED-000008608-1
BIP partnership:
D. A. Tsenov Academy of Economics (BG) - Coordinator
Valahia University of Targoviste (RO)
Polytechnic Institute of Tomar (PL)
University of Camerino (IT)
Target group:
Staff
Period of physical part:
4-8 September 2023
Period of the virtual part:
11 September – 10 October 2023
Learning platform:
https://training.eacademy.bg/
Country of venue:
Bulgaria
City of venue:
Chiflik and Svishtov
Minimum No. of participants:
15
Maximum No. of participants:
20
Trainers:
Prof. Margarita Bogdanova
Assoc. Prof. Marusya Smokova
Assoc. Prof. Evelina Parashkevova
Application deadline:
31 August 2023
Application link:
https://forms.office.com/e/EANaEU1MWj
Description:
This Blended Intensive Programme is aimed at equipping participants with the key skills and competences for designing successful project proposals. The BIP is targeted to the academic and administrative staff in HEIs, who are responsible for developing project proposals.

The BIP emphasises on designing and submitting successful project proposals under the calls of the Key Action 2 of the Erasmus+ Programme. The BIP content covers topics which vary from finding the right call for a project idea, developing a project concept, finding reliable partners, elaborating work packages and assigning responsible partners for each of the work packages, designing an implementation and risk management plan, as well as a dissemination and exploitation plan, constructing a budget, etc.

The BIP is more applied-oriented and use-inspired focusing on tips and guidelines both on how to create and evaluate/score a project proposal. It is focused on the evaluation criteria and what the evaluators look for in a project proposal under a specific call.
Expected outcomes and used methods:
This BIP relies mainly on the project-based learning, small-group discussions and role-playing instructional approaches. Participants could learn through collaboration and experiences. They will work in small groups on a real project proposal and its work packages. Each group will evaluate a work package developed by a peer group.

By the end of the BIP, participants will be able to:

find the right call for their project idea in order to increase their chances for funding,
develop a project concept,
find reliable partners by considering their expertise and capacity,
create work packages and assign partners for each of the work packages,
design an implementation and risk management plan,
design a dissemination and exploitation plan,
construct a budget,
evaluate and score their project proposal before submission.

Participants will be able to find the right call for their project idea, develop a project concept, design implementation, risk management, dissemination, and exploitation plans, construct a budget, evaluate their project proposal, etc.
Virtual Component Description:
After the physical training, participants will continue working on their group assignment – to complete the work package of a real project proposal assigned to their group during the physical training sessions by considering the feedback of a peer group. They will be provided an access to a Moodle-based course where they can collaborate, organise online meetings and discussions, take part in peer review activity, complete and submit their group assignment.